So here it is, my 8th annual holiday card address exchange request post!</font>

As in previous years, (2011, 2010, 2009, 2008, 2007, 2006, and 2005), I am sending out real, live holiday cards that you can hold in your hands, tape to your wall, or set on your mantle. I think getting cards in the mail is incredibly fun and festive and every year I get excited to send/receive them. A nice break from email and text messages!

So yeah, I'm requesting your snail mail address -- comments are screened & will be deleted shortly after (alternatively, you can email me here: miss.x_tina [at] yahoo [dot] com or message me on Facebook). I'll be sending them out in about a week or so. I'm not a stalker or anything, I have not the time/energy/inclination/funds to stalk anyone. In previous years, it was great fun and I usually send out between 30-40 cards. And no, you do not have to send me a card in return. :)

* If you've given me your address in previous years, please give it to me again. I know people move and stuff so I like an updated list. I have not kept addresses from previous years! Please give it to me again!! *

Anonymous posting is allowed so my non-LJ friends can comment with their addresses (no, no one can see your comment).

And yes, I am sending International!

*YAY!* :)



So here it is, my 7th annual holiday card address exchange request post!

As in previous years, (2010, 2009, 2008, 2007, 2006, and 2005), I am sending out real, live holiday cards that you can hold in your hands, tape to your wall, or set on your mantle. I think getting cards in the mail is incredibly fun and festive and every year I get excited to send/receive them. A nice break from email and text messages!

So yeah, I'm requesting your snail mail address -- comments are screened & will be deleted shortly after (alternatively, you can email me here: miss.x_tina [at] yahoo [dot] com or message me on Facebook). I'll be sending them out by the end of November/beginning of December. I'm not a stalker or anything, I have not the time/energy/inclination/funds to stalk anyone. In previous years, it was great fun and I usually send out between 30-40 cards. And no, you do not have to send me a card in return. :)

* If you've given me your address in previous years, please give it to me again. I know people move and stuff so I like an updated list. I have not kept addresses from previous years! Please give it to me again!! *

Anonymous posting is allowed so my non-LJ friends can comment with their addresses (no, no one can see your comment).

And yes, I am sending International!

*YAY!* :)

(I will repost this entry frequently before I send out my cards in case you miss it)

Current Mood:

excited
here
(comments there are very much invisible, or you can email me if you prefer: miss.x_tina (at) yahoo (dot) com).
Also note that you DO NOT have to send me one back!! I'm not sending to receive, I'm just a dork for Christmas & love sending cards. I also know that it makes people happy when they get a card next to a bunch of stinky bills and junk mail, makes the day a bit easier. :)
SO yeah, DO IT!!
Okay people, cards are going out by December 1st so pleasepleaseplease, send me your mailing address so I can send you a bit of Christmas happy! :) You can find my holiday card post
Link here
(comments there are very much invisible, or you can email me if you prefer: miss.x_tina (at) yahoo (dot) com).
I bought some very fun cards & I want to send them out, so gimme yer address!
Holiday card post reminder!!

So here it is, my 6th annual holiday card address exchange request post!

As in previous years, (2009, 2008, 2007, 2006, and 2005), I am sending out real, live holiday cards that you can hold in your hands, tape to your wall, or set on your mantle. I think getting cards in the mail is incredibly fun and festive and every year I get excited to send/receive them. A nice break from email and text messages!

So yeah, I'm requesting your snail mail address -- comments are screened & will be deleted shortly after (alternatively, you can email me here: miss.x_tina [at] yahoo [dot] com). I'll be sending them out by the end of November/beginning of December, so it gives you plenty of time to think about it. I'm not a stalker or anything, I have not the time/energy/inclination/funds to stalk anyone. In previous years, it was great fun and I usually send out between 30-40 cards. And no, you do not have to send me a card in return. :)

* If you've given me your address in previous years, please give it to me again. I know people move and stuff so I like an updated list. I have not kept addresses from previous years! Please give it to me again!! *

Anonymous posting is allowed so my non-LJ friends can comment with their addresses (no, no one can see your comment).

And yes, I am sending overseas!

*YAY!* :)

(I will repost this entry frequently before I send out my cards in case you miss it)

Current Mood:

bouncy

Current Music:

It's Beginning To Look A Lot Like Christmas - Perry Como
A weird thing that (I think) helps me cope with the work stress/lots of death... when I've had a patient for a while & have gotten to know them (well, as much as I can anyway)... after they die I always imagine them partying afterwards. Like on super nice days (like today), I imagine them young & healthy, sitting back with an icy cold drink, wearing shorts & sunglasses, with their feet up and a big smile on their face bopping to the music. Just hanging out in the sun or cruising in some kick-ass car with the breeze making their hair float up. Some happy song playing in the background, like "I Can't Help Myself (Sugar Pie Honey Bunch)" by The Four Tops or The Stones' "Get Off My Cloud". :) I don't know why but it makes me happy to think of them this way. And maybe that's what does happen when we die and the ugly death part is sloughing off all the stress and sickness and stuff so we can emerge clean and strong and free. I don't think that would be so bad. :)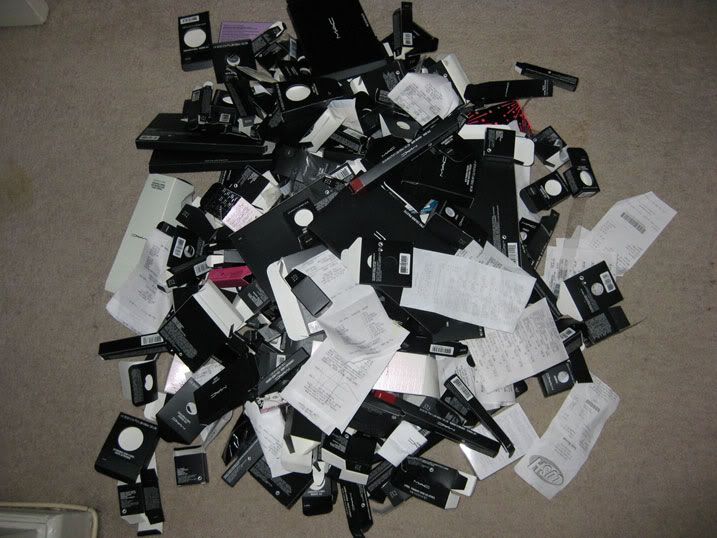 There are receipts in there too. Not all of them. I threw a lot out. But the ones I found in the bags I added up to a grand total of $5,335.12 (and that's not all of them, plus it includes my 40% discount). Instead of offering perspective, it just makes me want to go shopping at MAC! *haha* Yeah, I'm probably crazy but I don't care.
I'm not getting rid of any of my MAC. I thought I would but I don't want to.
I will be going through my bookshelves soon and getting rid of some books. My shelves are looking too cluttered, time for a weeding. Same with clothes. I've done some but not all. Anything old/faded/whatever goes. I'm trying to keep emotional attachments out of the process.
It's important to let go. Otherwise you end up living in the past and clinging to things that were over 20 years ago and what's the point of that?? More important to focus your attention forward. :)
So part of my New Years thing is to declutter and simplify my life. Over the past few weeks I've been "spring cleaning". A lot of it is letting go of the past -- for example, getting rid of a good 20+ years of journals, letters, yearbooks, etc. A big step for me. While cleaning out my closets, I found many, many MAC bags with the little empty makeup boxes in them. I have NO idea why I kept these. I think I stopped doing it about a year ago. Anyway, here's a picture of about a year & a half's-worth of MAC boxes:

So here it is, my annual holiday card address exchange request post!

As in previous years, (2008, 2007, 2006, and 2005), I am sending out real, live holiday cards that you can hold in your hands, tape to your wall, or set on your mantle. I think getting cards in the mail is incredibly fun and festive and every year I get excited to send/receive them. A nice break from email and text messages!

So yeah, I'm requesting your snail mail address -- comments are screened & will be deleted shortly after (alternatively, you can email me here: miss.x_tina [at] yahoo [dot] com). I'll be sending them out by the end of November so it gives you plenty of time to think about it. I'm not a stalker or anything, I have not the time/energy/inclination/funds to stalk anyone. In previous years, it was great fun and I usually send out between 30-40 cards. And no, you do not have to send me a card in return. :)

* If you've given me your address in previous years, please give it to me again. I know people move and stuff so I like an updated list. I have not kept addresses from previous years! Please give it to me again!! *

Anonymous posting is allowed so my non-LJ friends can comment with their addresses (no, no one can see your comment).

And yes, I am sending overseas!

*YAY!* :)

(I will repost this entry frequently before I send out my cards in case you miss it)

Current Mood:

excited

Current Music:

It's Beginning To Look A Lot Like Christmas - Perry Como
K. So one of my favourite cathartic, after-work, de-stress activities is to watch "bad motherfucker" movies, full of guns and swearing and all kinds of crazy. My question for you is, what are your favourite badass, mob/gangster movies?? Share with me cause I need more to round out my collection. :)